Many times the only thing standing between people and owning a walkie-talkie is the fear that they are costly. If you share similar fears, not to worry, as you are not alone. It is no news that many walkie talkies are expensive, but there are also brands and different models that tend to the needs of people looking to own a walkie talkie without needing to empty their wallets. 
Considerations for choosing the best cheap walkie talkies
Choosing the right radio to fit into your budget is more difficult than many people like to admit. You need to find that radio with all the right features and functionality while also keeping at the back of your mind how much you are willing to forego. Here are some of the factors you should consider when choosing a cheap radio:
Size
Choosing a radio based on price does not make it easy choice. There are still many factors to consider, and one of such important factors is the radio's size. The best handheld radio for you would depend on the radio's intentions. Many people have different needs, and different radio dimensions would serve those needs. You have the option of choosing between smaller sized radios and the larger sized radios, with either option having its pros and cons.
Smaller radios are preferred by explorers who do not intend to spend a lot of time outdoors, users who intend to use the radio in their backyard or take a hike close to home. Small radios like this would not need the biggest power sources and many functions. Smaller radios are the ideal walkie talkies for kids and would make the best companion for recreational use.
On the other hand, Larger radios allow users access to more functionality, a higher battery capacity, with the downside being less mobility. These radios are better suited for people that spend more time on the road.
Range
The device range is the distance between the radios for you to be able to receive and send transmissions. The better radios have longer ranges and allow more work to be done. Two factors affect the radio's range—the wattage of the radio and the number of obstructions in the environment.
The range advertised on most packages is derived under ideal conditions, with most radios offering a significantly shorter range than advertised. When radios are in a line of sight, the range is longer, and if they are used in places with buildings, trees and in the presence of other obstacles, the range is shorter.
The wattage of the radio depends on the radio service your radio broadcasts on. You have two options, the Family Radio Service (FRS) radios and General Mobile Radio Service (GMRS) radios. FRS radios are smaller, cheaper than your everyday GMRS two way radio. This is because FRS radios have limited wattage, about half a watt, and GMRS radios can have as much as 50 watts. More wattage means more transmission power. The downside to using the more powerful GMRS radio is that you would need a license to operate. The License is issued by the Federal Communications Commission (FCC). Transmitting without a license would mean some legal actions taken.
Durability
Your radio should not be all about aesthetics. It should not only matter ho good it looks but how well it works. The best radio is one that carefully balances both worlds; it is one that allows you to go anywhere, do anything and not have to worry about the device getting damaged. Most radios are the same size as most cell phones and are very likely to fall off; it then becomes important that the radio survives those falls. The higher-end radios offer users protection against water, dust and shock.
Battery Life
The radio is only as good as the battery. If you do not get the most out of the battery, you would be unable to enjoy the other features the radio has to offer properly. Constantly having to swap batteries or look for a power outlet to charge the radio would mean more time is spent trying to power the device than working or enjoying your adventure. This is why it is important that the radio offer multiple power sources. These often include AAA or AA batteries or a rechargeable battery pack. And they must also have a battery-saving function that means you get more from every charge.
Channels
The number of channels available on the walkie talkie are the communication options available to you. The more the number of channels available on the device, the more likely you are to find a channel to send and receive transmissions. Radios with privacy codes give you multiple channel combinations, and this means that you can always have conversations without having to worry about someone listening in.
15 Best Cheap Walkie Talkies
1. Midland – LXT500VP3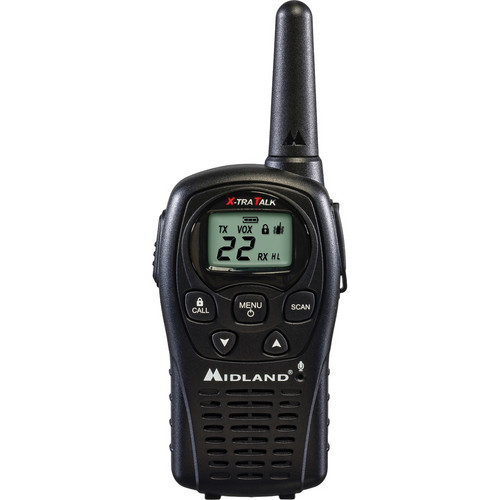 Midland's LXT500VP3 FRS two-way radios are one of the best, easy to use, long-range Walkie-Talkies. This radio features quality sound reception during communication. Other features include: 22 channels, range of up to 24 miles, keypad lock, PTT button (push to talk), belt clips, and it has a super amazing battery life as it runs on both rechargeable battery packs and AAA batteries. Midland's LXT500VP3 is one of the best walkie-talkies as it makes sure you get crystal clear communication.
PROS
This is a license-free radio.

It is water-resistant.

Excellent sound quality.

This radio has a silent operation feature.

It has dual power options.
CONS
This radio doesn't have a hands-free feature.

It has fragile belt clips.
2. Uniden MHS75
Uniden's MHS75 marine radio is compact and easy to use a two-way radio. It is a long-range radio, it has excellent sound quality, and it has a long-lasting battery life of up to 12 hours. The MHS75 Mari radio covers all USA, International and Canadian marine channels, keeping you informed. Uniden's MHS75 is one of the best marine talkies. It is water-resistant, it has a built-in LCD screen, and a PTT button.
PROS
This marine radio has excellent sound quality.

The Uniden MHS75 has durable battery life.
CONS
It does not have a hands-free function.

No anti-squelch function.

Fragile belt clips.
3. Midland gxt1000vp4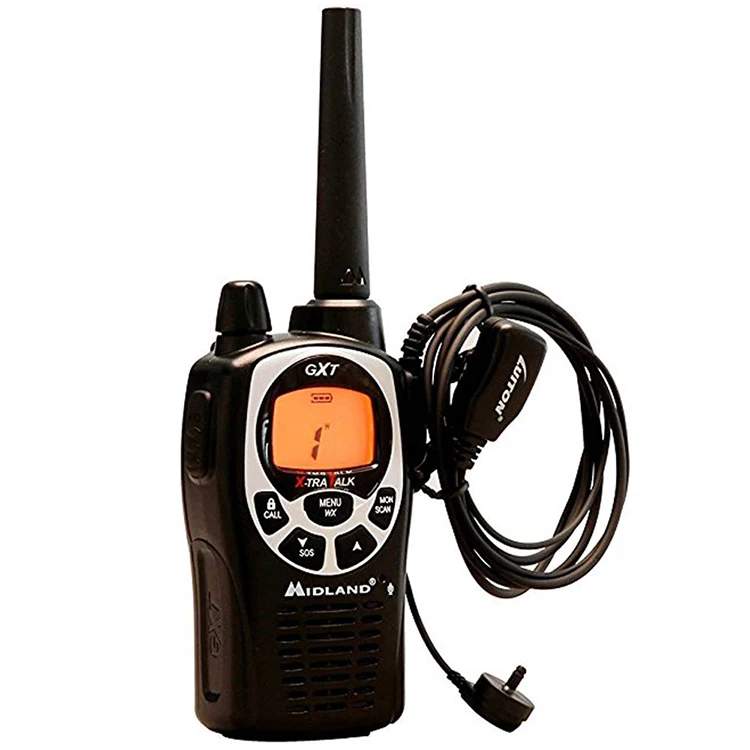 The Midland GXT1000VP4 GMRS two-way radio is a highly efficient radio with 50 channels, including channels that give NOAA weather alerts. The radio has 142 privacy codes that ensure safe and secure transmission. It also has a powerful speaker that provides high sound quality.
Midland radio is one of the best radios that provide long-range operation for users. It features a 36-mile range and a lithium-ion battery that provides maximum power. The two-way radios offer hands-free operation.
PROS
VOX feature with nine sensitivity levels for hands-free operation.

The Midland GXT1000VP4 features multiple channels with NOAA weather channels.

It includes accessories for enhanced performance.

It offers a high range of communication.

The radio offers a 36-mile range.

It is lightweight and portable.
CONS
FRS has a 500mA power limit.
4. Retevis H-7773
Retevis is a portable FRS two way radio. It's a rechargeable radio which supports USB charging. A clear voice prompt indicates the current channel number once the radio is turned on or switched to a new channel. It can charge for 2-3 hours and last for 8-9 hours due to its large capacity battery. It includes a belt clip and a built-in flashlight. Comes with 16 secure channels plus good sound quality.
PROS
The Retevis H-777 offers an extended battery life

In the package is a belt clip for more mobility

It comes with an emergency alarm

It can use a USB cable to charge

It's an amateur radio
CONS
It comes with only 16 channels

It doesn't support the use of an adapter
5. BaoFeng BF 888S
The upgraded BaoFeng radios are long-range radios with a lightweight and portable feature. It has a high-quality speaker that produces good sound quality and a lithium-ion rechargeable battery that provides constant power. The two-way radio offers hands-free operation and multiple channels that make it easy to communicate.
The ham radio consists of the list of the best radios for communication uses. The walkie-talkies use the USB charge method to ensure easy and convenient recharging of the battery.
PROS
It is effortless to recharge.

Emergency alarm and battery saver features ensure high performance.

High battery capacity ensures extended work time.

It is very portable and lightweight, weighing 6.6oz.

It has a built-in USB port for easy and flexible charging.
CONS
It does not accommodate the type C USB cord.

The channel number can be challenging to read in inadequate lighting.
6. Greaval Rechargeable Radio
The Greaval radio, despite being cheap it is quite durable and offers a lot of functions. The 16 channel UHF Two-Way Radio Frequency uses a rechargeable battery. This 1500 mAh rechargeable battery allows for continual use for 7-12 hours. It has 16 GMRS/FRS channels plus 50 CTCSS/ 105 DCS codes (privacy codes)with a programmable channel feature.
PROS
Built-in LED torch

Voice Operated Transmit(VOX) which aids hands-free operations

Built-in speaker which certifies the good sound quality

It comes with a belt clip, which makes it easy to carry.
CONS
It can't be used in basements

It has audio distortion of 5%
7. Baofeng UV-5R
Baofeng UV-5R two way radio dual-band136- 174/400-480Mhz is one of the best two-way radio. It comes with an LCD screen plus 128 channels, 50 CTCSS, and 104 CDCSS dual-band display. Has a low battery alert, emergency alarm, and emergency alert. It also comes with a push to talk key.
PROS
The Baofeng radio comes with a keypad lock

The radio is easy to use

It has 1an 800mAh Li-ion battery, so it has a long battery life

It supports manual programming. It's also easy to program via PC

It has an emergency alarm
CONS
It does not have a rechargeable battery.
8. Motorola Talkabout T460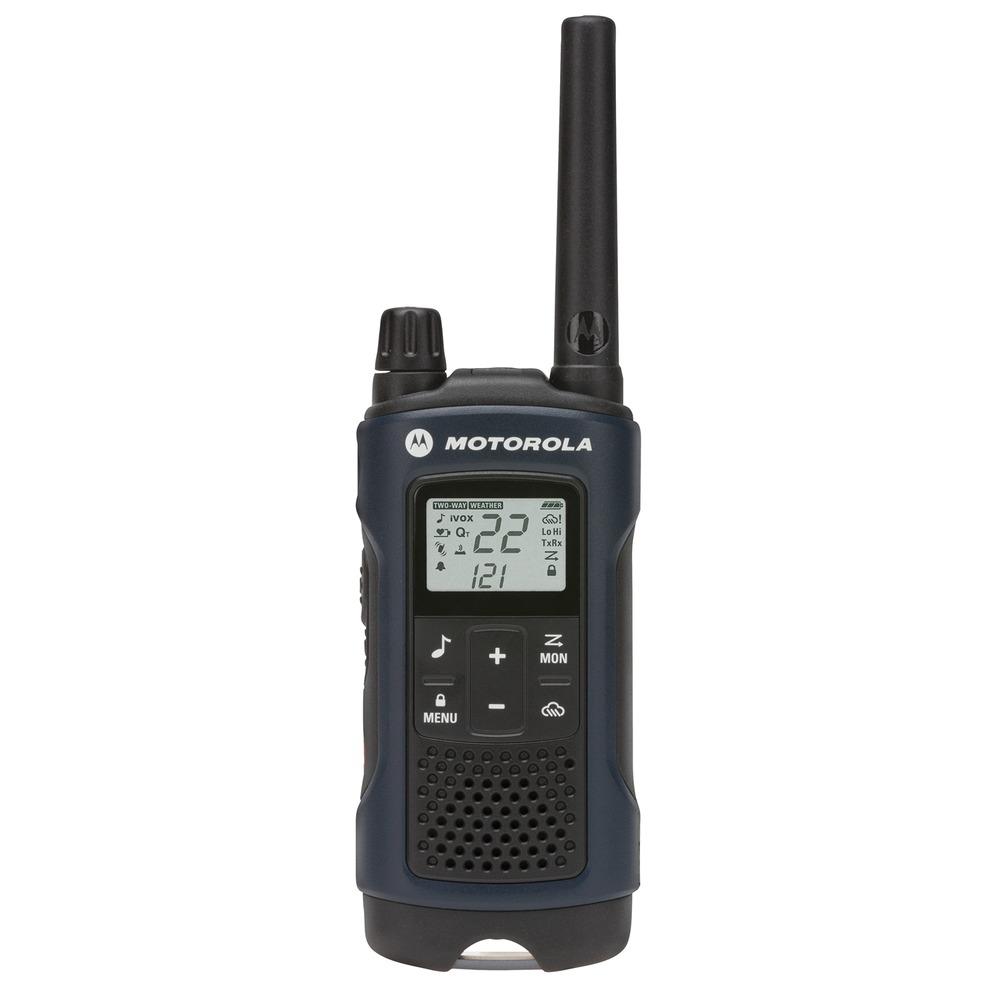 The T460 Motorola Talkabout two-way radio pair includes two handsets that offer 24/7 communication. It has two rechargeable batteries that ensure the high battery life of the radios. It also features 22 channels that include weather channels with 121 privacy codes to secure and quality communication.
This radio uses the NOAA weather channel for a weather forecast. It is one of the best long-range radios as it has about 35 miles range. It also has a push-to-talk button that allows convenient transmission.
PROS
With as many as 22 channels, it is suitable for family and group activities.

VOX hand-free property makes it convenient and comfortable to use.

Dual power ensures extended work time.

It has a built-in flashlight that provides illumination in dark environments.

An IP54 rating makes it weatherproof.

The radio features 121 privacy codes.
CONS
Voice quality is not very high.

The microphone is relatively weak.
9. Ansoko Radios
Ansoko radios are dubbed by many as one of the best, and for a good reason. The radio can cover up to three miles. It also has a long battery life of 8-12 hours under continual use and more hours under moderate use. Anosoko talkie makes sure you perform well in built-up areas. Portable FRS/gmrs two way radio with sixteen channels.
PROS
The radio cost-effective

It's easy to use
CONS
The radio only reaches three miles if you're talking from mountain to valley or in an open field.

It works outdoors but has no provision for severe weather.
10. Cobra RX680
The Cobra RX680 two-way radios are long-range radios that use 2662 channel combinations for perfect and quality transmission. It also has 121 privacy codes that reduce unwanted interference and ensure secure communication. The radio uses two lithium rechargeable batteries to provide a high battery life.
The two-way radio has a VOX hands free feature that ensures ease of use. It also provides weather alerts using NOAA weather radio.
PROS
 Rechargeable batteries provide extended run time.

IP54 rating ensures dustproof and weatherproof properties.

It has a high range of up to 38 miles.

It allows easy and quick recharging of batteries.
CONS
It might not cover a high range on some terrain.

It produces low audio quality at the exceeded range.
11. Cobra CXT195-6
The Cobra CXT 195-6 is one of the best two ways radios allow you to save money while ensuring that you keep in touch with others. The CX195-6 walkie talkie assists you in keeping track of pals while at events, the mall. This radio set is excellent as an emergency prep kit. It can serve as a weather radio as it contains 10 NOAA weather channels and weather alerts. It comes with 18 AAA batteries.
PROS
It has a long-range capability up to 16 miles

Built-in NOAA radio receiver

Enhanced functionalities due to easily connectable headset and earphones.

The radio can be powered using AAA batteries.
CONS
It can't function more than 16 miles
12. Arcshell AR-5
The Arcshell two-way radios consist of 4 radios that use 16 channels for communication. The 2-way radios weigh about 0.1 ounces, making them lightweight and portable. The radios make use of 4 lithium rechargeable batteries and cover an extended range for complete area transmission.
It has a push-to-talk button that allows you to switch from receiving to transmitting mode efficiently. It also has a high-quality speaker that produces loud and clear sounds.
PROS
It uses powerful lithium batteries as a power source.

It is highly portable and lightweight.

Synthesize voice tells channel number, ensuring comfort.

It uses four chargers for adequate recharging of batteries.

It has up to 5 miles range without obstruction.
CONS
Range depends on the terrain.

It takes about 2.5 hours to complete the full charge.
13. Retevis RT68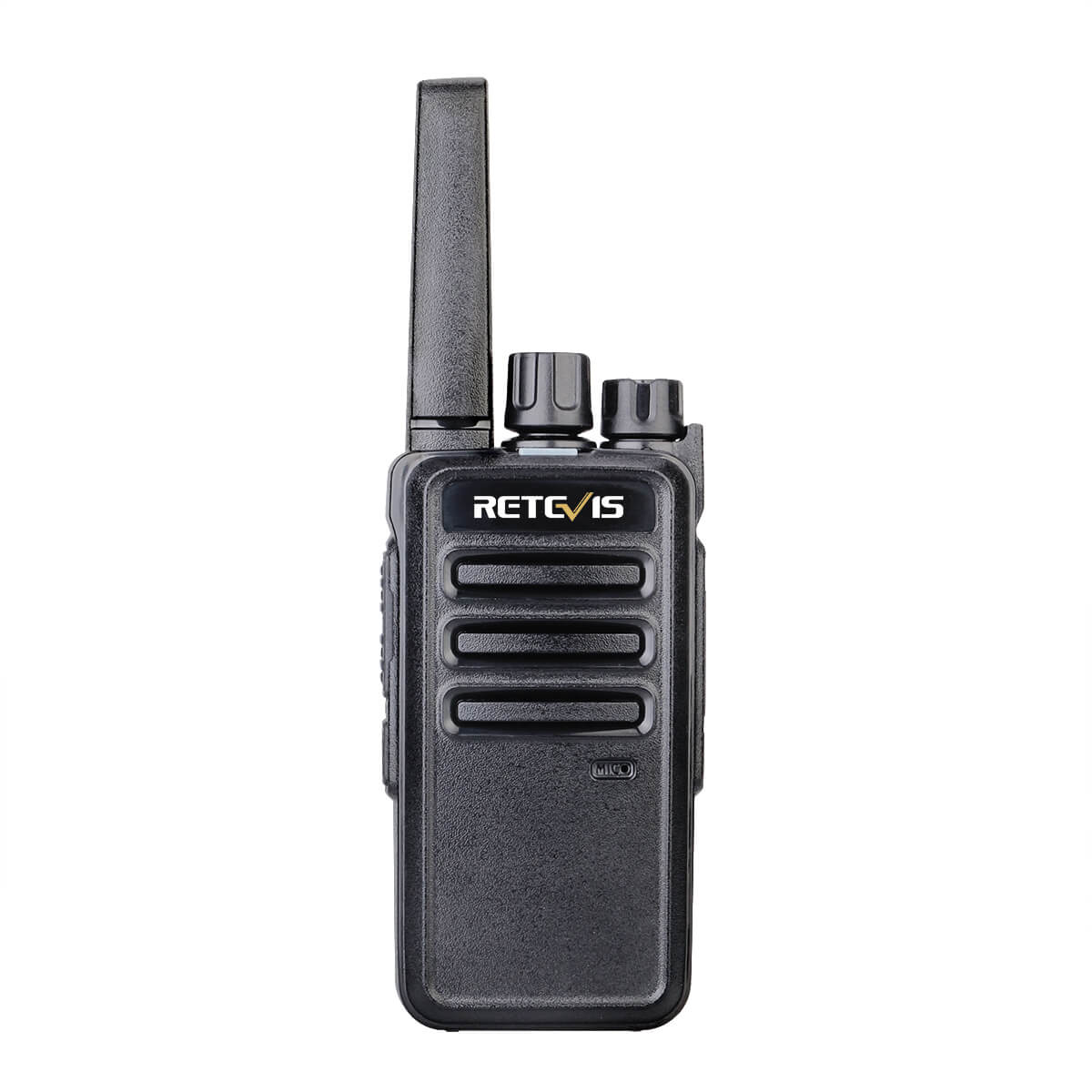 This two-way radio provides for clear communication. RT68 has a penetrating signal; it's better in urban environments. The favorable and loud audio output ensures effective communication.RT68 radio is simple to use and has Family Radio Service(FRS) channels. It has a 1200mAh battery with up to 12 hours of battery life. RT68 delivers cost-effective connectivity.
PROS
The RT68 is easy to operate

It's easy to hold

It has a clear and loud radio output

The radio has a VOX function(hand free)
CONS
14. Rivins RV-7
The Rivins RV-7 is an FRS/GMRS walkie talkie pack with 22 channels for communication between users. The 22 channel radio has about 5 miles of long-range communication and use AAA rechargeable and AAA alkaline batteries as a power source. These 2-way radios are very easy to operate, and you do not need a license to operate.
The radio also provides about 0.6 to 1.2 miles of range in obstructed conditions. It also has privacy codes that reduce interference and ensures secure and safe transmissions.
PROS
Different battery types provide you with flexibility.

The radio has 22 channels.

Call tones allow you to ring other radios before sending your voice.

A high-quality LCD shows vital details.

Built-in flashlight provides illumination for night use.

It has a high-quality microphone and speaker for audible sounds.
CONS
The hand straps are not very good.

 You will need to disable privacy tones to work with other brands.
15. Retevis RT21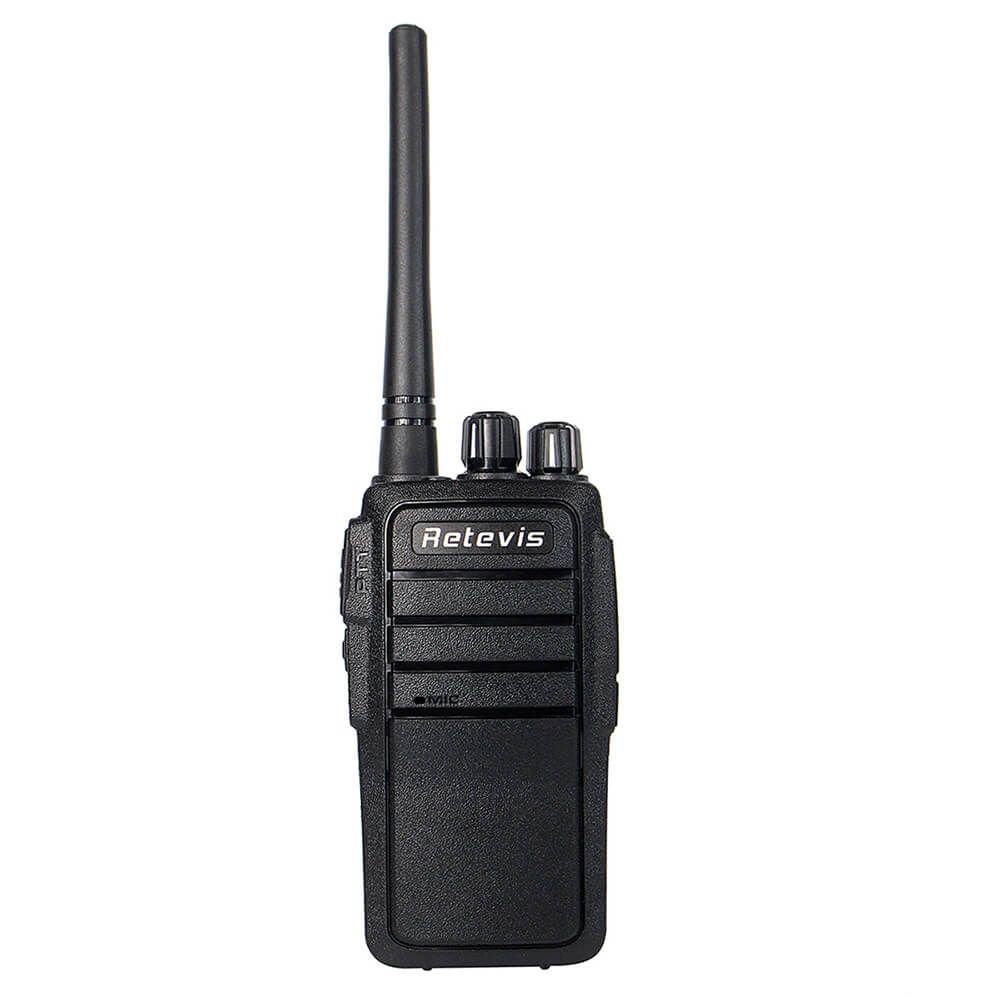 The Retevis RT21 two-way radios are highly efficient for communication between friends, families, and people groups. It has a hands free feature that enables easy operation. It uses 16 channels with VOX scan emergency for efficient transmission.
The 2-way radio has an aluminum plate battery bay that makes the battery durable. The walkie talkie uses the CTCSS and DCS encode/decode that ensure safe and secure calls.
PROS
The high-quality case ensures durability.

It provides quality audio sound and signal.

It has 16 channels that ensure multiple communications.

Four lithium-ion batteries provide maximum power.

Emergency alarms ensure safety when working alone.
CONS
Range reduces when there are any obstructions.

Recharging can take a while.
Overall Best Buy
The Cobra RX680 is a 2-watt rugged walkie talkie that has dustproof and waterproof abilities. The radio has a two powerful rechargeable lithium-polymer battery that can work several shifts after a single full charge. It also a high range with multiple channels that make it suitable for several applications.
Best Budget Buy
One of the cheapest and highly affordable two-way radios is the BaoFeng BF-888S that includes two handsets in a pack. The radio is a perfect fit for buyers seeking to buy cheap walkie talkies. It features 16 channels and a rechargeable battery that makes it suitable for a wide range of users and applications.
FAQs
Where to Buy Best Cheap Two Way Radios
There are different places you can get your radios. There are quite several stores that provide the best radios for sale. You only have to visit the store and place your order.
Stores you can get cheap radios can either run online or offline. These stores include Amazon, Etsy, eBay, etc. You can also visit offline or physical stores to purchase the best cheap radios.
You also have to be sure of the store's reliability and authenticity before getting your two-way radio because several stores are not reliable. As much as choosing your radio is essential, choosing the store to buy from is also vital.
How to pair walkie talkies
Pairing walkie talkies are usually easy and ready to pair outside the box if both radios are of the same brand or model. If you have any problems connecting the radios, it must be because they are of different models. To pair the radios, you must follow the following steps:
STEP 1
Tune the radios to the same channel. If you are unable to pair the radios, it must be that the frequencies are programmed to different channels. The solution would be to manually program the radios to the same frequency using the instruction manual.
STEP 2
If manually setting the radios to the same frequency does not work, the problem must be with the radio's privacy codes. Having different privacy tones on the radios very like would be the cause for the disconnect. The solution is to turn off the privacy feature on both devices.