Choosing the best emergency radio is more of a task than when you have to choose a walkie-talkie for your children to play in the backyard. The consequences of not making the right choice can be dire and severe. And in a world where there are too many choices to sieve through, it becomes even more daunting a task to settle and make that choice. 
You are not alone. There are many people wondering what the best radio for an emergency would be. Many people like you unsure about what features to look out for, and functions to absolutely avoid. We have factored in all your worries and came up with this list of emergency. These security walkie talkies would ensure that you and your family are safe round the clock and are just one push of a button away from getting help. 
Consideration for choosing the Best emergency radios
Do you need the best batteries? Would the radio be better o big with functions and immobile. Or would small, nimble and with fewer functions be the better option. When it comes to the world of radios, there are too many permutations and getting it just right can be more difficult than most people think. In my years of experience using radios indoors and outdoors, I have been able to narrow down the following factors for you to consider when making a choice for your new two-way radio. These factors ensure that you leave no stone unturned and only walk out of that store when you are with a radio that is satisfying and guarantees your security. They are: 
Size
Walkie Talkies are carry-around tools of communication. One of their perks is that they are not too big; they are usually grab-friendly and lightweight. They are usually used for strenuous and stressful trips or activities, so it is not advisable to take something that will slow you down. 
Mobility is one of the reasons many people opt for smaller radios. During an emergency, you want to travel light and would be counterproductive to be saddled with a radio that weighs too much. On the flip side, a radio that weighs more than others probably does so because it has a larger power unit, which translates to more run time and talk time. So when it comes to choosing a radio based on size, it in many ways boils down to what you need as an individual.  
Durability
Your walkie talkie's build quality is very important, especially when it comes to security and emergencies. The material with which the radio is constructed can be the difference between getting out safely or being able to radio for help. The higher-end radios are made from scratch-resistant materials. They have waterproof seals that make the radios resistant to water damage. This, coupled with the fact that many radios are resistant to dust and shock, means that you can take these radios anywhere and everywhere. 
Security Features
The following are important features you should be on the lookout for if you want your radio to serve any worthwhile purpose during an emergency. 
Battery saver: Radios with this feature automatically shut off when no transmission is picked up in a long time. This conserves energy and allows you to use the radio for much longer. 
NOAA Weather Radio: This feature allows the user to keep track of the happenings and changes in the weather on the go. This information enables the user to make decisions and change plans, depending on whatever mother nature has planned. 
Backlight: This comes in especially handy when you are using your radio in places with little to no light. It enables you to transverse the interface and radio for help. In times where time is everything, being able to navigate your radio with ease is definitely a plus. 
VOX feature: It is also known as the Voice-activated feature. It enables the user to receive and send transmissions using the radio without physically handling the radio. 
Flashlight: Your emergency radio would be incomplete without a trusty flashlight. This allows you to keep going and get work done even when the sun darkens and lights out. 
Range
The range of your radio is arguably the most important factor during emergencies because how far you can send out your message would determine to a large extent how soon you can be out of trouble. It goes without saying that radios with longer transmission ranges are better emergency radios. 
The range of your device can be affected by two factors—the wattage of the device and the number of obstructions in the environment. 
The range often advertised is often derived in impractical ideal situations, but when used in places with trees and other obstacles, the range is seen to be reduced. 
The wattage, on the other hand, is dependent on the service your radio is broadcasting on. With the Family Radio Service (FRS) radios, you would not be spending too much but would have limited range, as the device is capped at half a watt of power. General Mobile Service Radios, on the other hand, have more power, as much as 50 watts, cost more than FRS radios and require a license by the Federal Communications Commission (FCC) to use. 
Battery Life
When choosing a radio for emergencies, one factor that can not be overlooked is the battery life of the radio. The best radios usually have multiple power sources, ranging from AA or AAA batteries to rechargeable battery packs. It is also important that the radio feature a battery saving function, so the user can get the most out of every charge. 
Price
If you want the best, you must be willing to spend the big bucks. The higher-end radios would offer you all the functionality you need but would also cost you. We have factored all budgets and have radios that cost relatively less and give you a lot of value on this list. 
15 Best Emergency Walkie Talkies
The following radios were carefully selected after taking into account people that have bought them, and the review/feedback we got from our poll. They are:
1. Retevis RT16
The Retevis RT16 is one of the best family radios for emergencies in the market. The 2 way radios are easy to use and are an excellent communication device. It makes use of a 1000 mAh lithium-ion battery, which can last actively for a whole day. The range is impressively broad and can be used for communication during camping, hiking, and other outdoor activities. It makes use of 22 channels. Other features include the hands-free function and 11 NOAA weather alerts.
Pros
The battery lasts for a whole day.

Clear sounds.
Cons
2. Midland GXT1000VP4
This is one of the best radios for emergencies. It is easy to operate and has 142 privacy codes that block other communication signals from disrupting conversations with friends and family. The two-way radio has other features such as NOAA weather alerts, a lithium-ion battery, and a menu button for easier navigation of the device settings. The midland gxt1000vp4 comes with a belt clip, which allows you to hold the device securely on your body while hiking.
Pros
It has a long-range communication reach up to 36 miles.
Cons
The battery is not the strongest.
3. Uniden SX507-2CKHS
The two-way radio is one of the best long-range radios for emergencies. It has an impressive mile range of up to 50 miles. Other features of the Uniden SX507-2CKHS include the NOAA Weather Scan and Alerts, enabling it to read weather conditions, hands-free operation, FRS GMRS, menu button, and 22 channels for communication. Its battery life lasts for up to 14 hours on a full charge; it uses AA batteries. It has 142 privacy codes that help block interruptions while communicating.
Pros
Fourteen hours of battery life.

Interruption-free communication due to its 14 privacy codes.
Cons
 Long-distance communication problems.
4. Baofeng UV-5RE
The Baofeng UV two way radio is one of the best long-range communications radio for emergencies. For open areas, the device can communicate across a longer distance. It is a better emergency communication than cell phones in areas where the mobile signals are poor and non-existent. It uses two radio frequencies: VHF/UHF. It is one of the best dual-band VHF radios. . The Baofeng UV is an excellent emergency handheld radio for communicating with family and friends. It has a keypad lock to prevent children from dialing.
Pros
Dual-band function (VHF and UHF radio frequencies)
 Cons
Communication problems over long-distance.
5. Uniden MHS75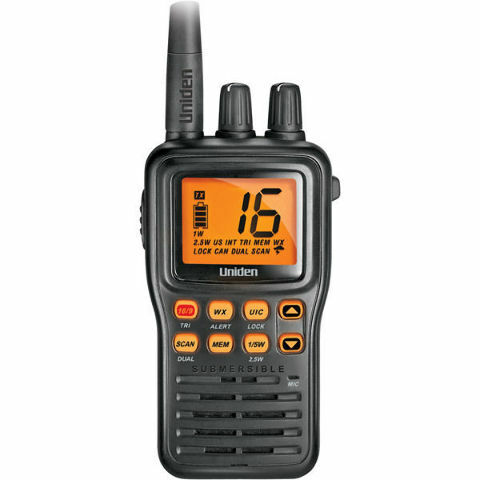 The Uniden MHS75 is one of the best walkie talkies for emergencies. The two-way radio has an impressive mile range that makes it suitable for long-range communication. It is easy to use and an effective tool for communication within your family home. The 2-way radio is one of the best VHF radios in the market. It makes use of the lithium-ion rechargeable battery.
Pros
It is rugged and water-resistant.

It converses battery.
Cons
Poor belt clip design.

It is not waterproof.
6. Retevis RT16
The two-way radio is suitable for long range communication. The handheld radio can withstand severe weather conditions. It is one of the best radios for family communication, suitable for six people since it comes in a pack of 6. It has the vox feature, 22 channels, including 11 NOAA weather alert channels. It uses lithium-ion rechargeable batteries. The price tag on the radio is $99.99. It comes with a flashlight, which is particularly useful at night. The device is compact and portable; you can carry it around easily.
Pros
Multiple channels.

Compact Design.
Cons
7. Midland – X-TALKER T31VP
The two-way radio is one of the best walkie talkies with a longer range than the average communications radio; it covers an incredible range of 26 miles. The handheld radio uses 38 CTCSS privacy codes (Continuous Tone-Coded Squelch System) to prevent interruptions from other signals. It is a rugged radio that can withstand extreme weather conditions. Apart from the radio, you also get three belt clips and rechargeable AAA batteries. It also has 22 FRS and GMRS channels. The ham radio offers hands-free operation.
Pros
Longer distance range up to 26 miles.

3-year warranty.
Cons
8. Motorola Talkabout T280 
The two-way radio is one of the best communication devices for short and long-range distances; it covers an impressive range of up to 25 miles. Other cool features include multiple channels, clear sound output, USB ports, and an emergency preparedness checklist. According to the reviews, Motorola is one of the best companies that produces durable radios and walkie talkies. It uses a rechargeable battery. It can also be used at home for family communication.
Pros
The radio is durable

Converse battery power.

Long-lasting battery for up to 12 hours.
Cons
It is not water-resistant.
9. Rivins RV-7
The Rivins RV-7is one of the best walkie talkies for emergencies. The two way radios cover a long range up to 5 miles. It has 22 FRS GMRS channels with 99 CTCSS privacy codes that give it a wider range during communication. The four-pack radios are perfect emergency devices for a family of up to 4 members. It uses AAA batteries. You can switch between its numerous power options (battery saver and normal mode) to better converse its battery.
Pros
Extended battery life with battery saver mode.

Flashlight for emergencies.
Cons
Only covers a distance of up to 5 miles.
10. Arcshell Rechargeable Radios
The Arcshell rechargeable radio is one of the best two way radios for emergencies. It is an effective communication device in open areas. It can cover up to 5 miles of distance in open areas. The long-range radio has a frequency range of UHF 400.025-469.975MHz and 16 channels. It uses 50 CTCSS tones and 105 CDCSS tones on each channel to offer greater privacy for users. The radio uses a 1500mAh rechargeable Li-ion battery and has a battery life of up to 8 hours.
Pros
Strong Battery life.

Fast battery charging time.
Cons
Short-range coverage of up to 5 miles.
11. Baofeng BF-888S
The radio is one of the best walkie talkies in terms of battery life. It is easy to use and has an impressive range that serves most of your communication needs. It reaches its full range capability in open areas. The radio has a frequency range of 400 to 470MHz, with 16 channels attached. You can use it to contact friends for emergency services. Ir has a battery saving mode that helps convert battery and an alarm sound to alert you whenever the battery runs low.
Pros
The battery can last up to 40 hours.
Cons
The walkie talkie is not water-resistant.
12. Midland-EX37VP
The radio is one of the best talkies on the market. It uses a family radio service for communication; 22 FRS channels are on the radio. It also has the NOAA Weather Alert function. The radio is one of the best two way radios for its range. It covers an impressive 26 miles in open areas free from obstacles that can hinder communication flow. The radio can withstand severe weather conditions. It uses either AAA batteries or NiMH rechargeable batteries.
Pros
It has a long-distance range of up to 26 miles.
Cons
It has a short battery lifespan.
13. Retevis RT22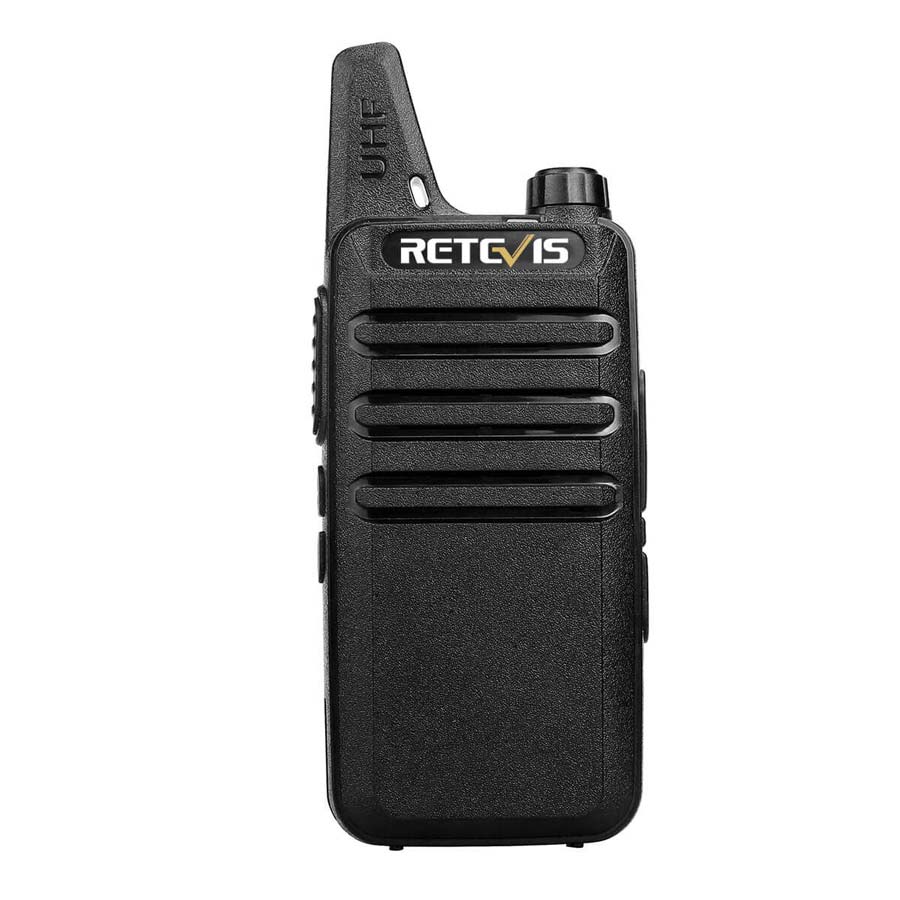 The military camouflage-colored two way radio is one of the best walkie talkies for its range. It is easy to operate and a better alternative to mobile phones in areas where mobile signal is poor. Other features include hands-free, VOX, FRS channels, and battery saver function. The mobile phone alternative has a compact size and a unique clip, which makes it portable. Make sure you charge the 1000 mAh rechargeable battery full the first time you open the box to preserve its battery life.
Pros
Compact and portable size.

Sleek design.

Clear and loud audio transmissions.
Cons
It is not water-resistant.
14. COBRA ACXT1035R FLT
The walkie talkie is one of the best talkies on the market. It is extremely useful for emergencies. The two way radios are rugged and built to withstand tough weather conditions. It is both water and dustproof. The radio covers an impressive mile range of 37 miles. Make sure you use high-quality aA batteries to get the best battery life out of the long-range handheld radio.
Pros
It is waterproof and can withstand tough weather conditions.

It is a long-range walkie talkie that covers up to 37 miles.
Cons
It does not have a battery saver mode.

Its battery life is not the strongest.

You might experience battery drain
15. Ansoko Radios
The rechargeable walkie talkie is one of the best talkies on the market. It is easy to use and learn all its functions in a few minutes. The long range walkie talkie can cover up to 6 miles; it is one of the best radios for emergencies. The two way radios use FRS GMRS frequency range, with 186 channels and 50 CTCSS tones, and 105 DCS codes. It has a lightweight design with a strong battery power that can last up to 48 hours on a full charge.
Pros
Long-lasting battery power for up to 48 hours.

18 months warranty.
Cons
Overall Best Buy
The Overall best buy is the Baofeng BF-888S 5W. This gadget comes with 16 preset channels for easy and smooth communication. It relies on the UHF tuner technology for communication. The full package comes with 16 different handheld black walkie talkie. It uses a battery capacity of 1500mAh; it offers crystal clear voice transmission. Each walkie talkie has an earpiece and a rechargeable Li-ion battery. The device was built to adapt and adjust to harsh situations. It is also very reliable in mountainous areas and dense forests. If you are willing to go out on cash and get the best quality, the Baofeng- 888S 5W is the perfect device for you.
Budget Buy
The Arcshell Rechargeable Long Range Two-way radio is the perfect buyer for a shopper on a budget of $25.99; you can get this small and convenient device that fits perfectly in your hands. It has a frequency range of about 400.025Mhz to 469.975Mhz. It comes with 16 pre-programmed channels; each of these 16 channels is out of the box and comes with a synthesized voice that will let you know what channel number you are on. Each of the radio comes with a 1500mAh rechargeable Li-ion battery and a charging dock. It takes about 2-3 hours to get fully charged and can last for about 8 to 96 hours at a go. Hi-fi audio quality and an inbuilt speaker. It also comes with an earpiece for each radio for hands-free communication. It has a range of about 5 miles without obstruction.
FAQs
Where to buy emergency walkie talkies
Just like any gadget you want, a walkie talkie can be found in a convenience store, a tech store or a mall around you. If going out physically is a bother because of the Covid-19 pandemic, you can get a walkie talkie from an online store like Amazon or AliExpress, they might come at an extra cost because of the delivery charge, but you will get what you ordered.
How to pair walkie talkies
Pairing walkie-talkies is usually easy and straightforward as these devices typically come out of the box ready to pair. If you are having problems connecting any two radios, it must be because of one of the following reasons.
One or both radios are defective and need to be fixed or replaced.
The radios are of different brands or models.
Or the radios are on different privacy codes.
Suppose the radios are unable to pair as a result of being from different models or manufacturers. In that case, you should try to manually tune both devices to the same frequency using the instruction manuals. Different radio models have different frequencies programmed to their varying channel numbers.
And if the problem is with the privacy tones on the device, you would need to ensure that both devices are on the same privacy tone and if you are unable to do that. The next thing would be to switch off the privacy tone feature on both radios.
There are 2 privacy code types, Continuous Code Tone Squelch System (CTCSS) and Digital Coded Squelch (DCS). Knowing which is on your radio would help you narrow down your window of compatibility.